Campingaz 4 Series Classic EXS BBQ - Pick Up Only
SKU:

2000026020

UPC:

3138522088835

MPN:

2000026020

Weight:

64.00 KGS

Shipping:

£1,000.00 (Fixed Shipping Cost)
Description
We are currently Unable to Ship this item due to the Coronavirus Situation
Local Pick up only by appointment
Our Opinion:-
Coming soon
What the manufacturer says:-
Cook up a feast for family and friends with the powerful 4 Series Classic EXS 4 burner barbecue. Stainless steel tube burners together with a large, enamelled cooking surface are perfect for preparing a wide range of al fresco meals.
The included Campingaz Culinary Modular Barbecue Accessories provides keen grillers with even greater cooking versatility. Cleaning is quick and hassle-free thanks to the Campingaz InstaClean® System.
Features
Cooking surface dimensions (cm²): 3,500
Cooking Dimensions (cm): 78 x 45
Burner: Stainless Steel Tubes with 3 year warranty
Number of burners: 4
Power: 12.8 + 2.3 kW
Gas consumption: 931 + 167 g/h
Campingaz InstaClean® System: Yes
Cooking surface material: Enamelled Cast Iron
Cooking surface configuration: Grid / Griddle
Ready for Culinary Modular Barbecue Accessories: Yes
Warming rack: 75 x 17 cm
Rotisserie Option: Yes
Cooking height: 90.5 cm
Ignition: Instastart®
Thermometer: Yes
Side table(s): Yes
Folding side table(s): 1
Side burner: 1
Lid material: Enamelled steel & aluminium die cast
Trolley material: Steel
Trolley configuration: 2 doors, sides and back closed
Wheels: 4 Casters
Cylinder support: Yes
Weight: 64 kg
Dimensions (L x W x H) in cm (open): 160.3 x 65.8 x 146.6
Dimensions (L x W x H) in cm (closed): 136.5 x 59.8 x 115.6


This Campingaz barbecue can be operated from a standard 13kg gas cylinder.
Feature-Highlights on one view
Campingaz® Culinary Modular System

Discover the ease of multiple cooking and grilling options with Campingaz® Culinary Modular Barbecue System.

Simply take out the inner ring of cast iron grid and drop in one of the Culinary Modular Barbecue accessories (sold separately). Why not serve up fresh pizza baked on a pizza stone? Or indulge in a delicious grilled paella made in a Spanish non-stick paella pan. If exotic stir-fries make your mouthwater then use the carbon steel wok with non-stick coating. Or grill your chicken to perfection on the poultry roaster. Perhaps you are just simply looking to upgrade your stamped steel grid to high quality cast iron to achieve steak perfection?

The Campingaz® Culinary Modular Barbecue System offers every option your gourmet barbecue heart desires.

Culinary Modular System included on the following models:
(pizza stone, paella pan, carbon steel wok and poultry roaster sold separately)

4 Series RBS EXS, 4 Series RBS LXS, 3 Series RBS L, 4 Series Cast Iron EXS, 3 Series Cast Iron EXS, 4 Series Classic LXS, 4 Series Classic LS Plus, 4 Series Woody LX, 3 Series Classic LS Plus, 3 Series Woody LX.

Available as upgrade on the following models:

4 Series Classic LS, 4 Series Classic L, 4 Series Woody L, 3 Series Classic L, 3 Series Classic LS , 3 Series Woody L.

Even-Temp® - Even Heat Distribution

Temperatures of and above 250°C are recommended for perfect direct grilling and searing.

It is important to have such temperatures across most of the cooking surface - nothing is more annoying than having part of the food already well done while the rest is still uncooked.

Our 3 & 4 Series grills reach temperatures above 250°C on at least 90% of the cooking surface so the grill can be used more efficiently. The control knobs allow the barbecue chef to decide where he wants to have really hot areas and where he wants to have less heat.

InstaClean® System

Cleaning your Campingaz barbecue has never been easier than with the patented Campingaz InstaClean®

System.

Enjoy more time having fun with family and friends rather than spending hours cleaning your barbecue after an enjoyable grill party. The system allows you to remove all dishwasher safe parts in less than 60 seconds. They are sized to fit a standard dishwasher.

This new patented system is featured on all Campingaz 3 and 4 Series barbecues.

Quick, simple and no mess involved!

Stainless-Steel-Burner-System

Get ready for the new strong and durable stainless steel tube burners for long lasting and enjoyable BBQ sessions!

Enjoy great cooking performance with this smart burner system designed especially to perfectly grill all types of foods.

From direct grilling to prolonged baking using indirect heat, the burner allows versatile usage:

• Even heat distribution across the cooking surface

• Powerful heat for direct grilling and searing

• Adjustable heat even to low temperatures ideal for indirect cooking

• Durable materials ensure a prolonged lifetime of burners

How does the Stainless-Steel-Burner System work?

• Specially designed burners create V-shaped flames that are directed towards the cooking grid and spread the heat evenly across the cooking surface

• The tube burners can be adjusted to create smaller flames that are perfect for keeping low heat for extensive indirect grilling

• The newly designed burner tent, with protected ventilation slots, supports the even distribution of the heat and prevents flare ups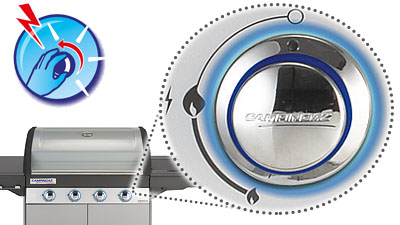 Instastart® ignition for gas barbecues
This special type of electronic ignition is a convenient push and turn-button lighting system designed specifically for our gas barbecues. Simply push and turn the button to ignite your barbecue.
View All
Close