Campingaz Powerbox® Plus 36L 12v/230v Electric Cooler - Latest Model A++ Rated
SKU:

2000030258

UPC:

31385220944652

Weight:

4.80 KGS

Shipping:

Calculated at Checkout
Description
Our Opinion:-
New for 2018

Campingaz redesigned the Powerbox last year. The Powerbox Plus 36L will operate from a 12v Cigarette lighter socket whilst travelling and can be operated directly from a 230V socket outlet at home, in your tent, caravan, motorhome or hotel room with the built in 230v lead The Powerbox 36L will cool to an impressive 19˚C below the ambient temperature.

The Powerbox has an Antimicrobial Liner, to help stop mould and Mildew so reducing any unpleasant odours.
Good insulation and insulation in the lid help maintain the temperature and the Powerbox 36L cools to 19˚C below the ambient temperature.
A well designed Thermoelectric cooler from a Top brand, with better than average cool.
NOTE 1 : This Coolbox is fitted with a Battery guard circuit built into the 12v Supply lead. This will switch off the 12v supply to the coolbox when it detects a drop in voltage to protect your battery. This is to ensure that you can still start your car. It is therefore common that when used in your car the coolbox will switch off when you turn off the engine or if used with a leisure battery in your caravan or motorhome and you are NOT on a mains hook up the coolbox will again switch off to protect the battery.
NOTE 2: Thermoelectric cool-boxes work differently to Fridges. They maintain a Temperature below the ambient or air temperature. They do not maintain a steady temperature like a Fridge. In the case of this Cool-box it will maintain a temperature

19˚C

degrees below the Ambient Temperature. so if the air temperature is 22˚C the cool-box will maintain a temperature of

2˚C.
What the manufacturer says:-
Powerbox® Plus 36L 12/230V active cooler operates off a 12V car plug-in or a 230V electrical outlet (both cables included), combined with the high-performance injected PU foam, the coolers will keep contents at 19˚C below the ambient temperature.
They feature a control dial with 4 modes, allowing you to choose the performance and efficiency level. The coolers can be turned off by putting the dial on "OFF" mode without the need to unplug the cord. To reduce the noise level of the fan switch to "NIGHT" mode, and for an efficient, yet environmental friendly operation, the "ECO" mode can be used, giving an A++ energy rating. "MAX" mode is available for the ultimate cooling performance.
Inhibiting the ability of microorganisms to grow, many Campingaz® coolers feature an Antimicrobial Liner, a powerful protection ensuring resistance to mould and mildew growth inside the coolers and it also blocks unpleasant odours from developing.
An antimicrobial additive is melted down into the plastic before it's moulded into the liner to ensure that it's "there for life" and cannot be scratched off or weakened over time.
Features
Capacity: 36L
Fit: 10
Features: Thick, premium PU insulation, runs off a 12V car plug-in or a 230V wall outlet, built in transformer, four mode adjustable cooling performance,locking lid that 'clicks' on close, antimicrobial liner, two side handles,assembled in Italy
Insulation: PU
Insulation performance (+/- 1°C): 19 degrees below ambient temperature
Weight: 5.2kg
Outer Dimension (LxHxW): 55.9 x 40.4 x 34.8 cm
Inner Dimension (LxHxW): 46.7 x 29 x 27.5 cm
1 -Thick, Premium PU Insulation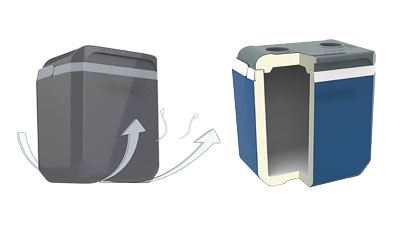 Tests show that cooling loss is 30% through the top and 30% through the base.
New models feature increased insulation in the lid (Icetime Plus Extreme & Powerbox Plus) and base, and reduced insulation on the sides, resulting in smaller exterior dimensions yet retaining interior capacity and performance.
We uses polyurethane, the highest quality insulation material available on the market - utilizing up to 30% more insulation.
2 - Antimicrobial Liner - Resists Odour, Mould and Mildew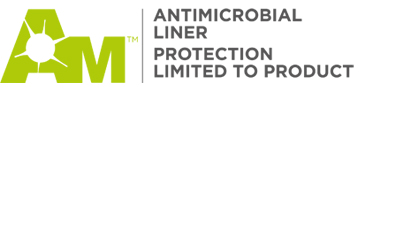 Antimicrobial effect is obtained from an additive which is melted down into the plastic before it's moulded into the liner. This means the antimicrobial layer is "there for life" and cannot be scratched off or weaken over time.
- Resists mould and mildew growth
- Blocks unpleasant odours from developing
3 - Hinged lids and wide lid opening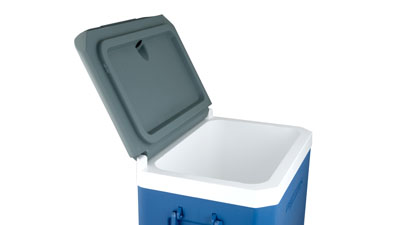 Hinged lids fit snugly into the case, while the bail-style handle snaps perfectly behind, making the cooler compact for easy transportation. Cooler opens wide at the top, to make filling quick and easy.
Lid is also designed at the perfect angle, so the cooler won't fall backwards whether it's empty or full.
4 - Locked and sealed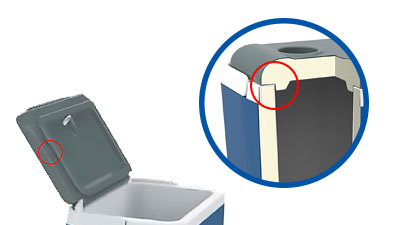 Cooler is designed with a lip on the lid, which locks perfectly into the case for a secure seal. Our click and lock system emits a reassuring "click" when you shut the lid, so you know the cooler is firmly sealed!
View All
Close