Campingaz Party Grill® 400 - FREE Campingaz Hose & Regulator Kit (RRP £16.99)
SKU:

2000023718

UPC:

Weight:

4.92 KGS

Shipping:

Calculated at Checkout
Description
FREE Campingaz Hose & Regulator Kit
(Worth £16.99 -While stocks last)
Also Available with an Empty 907 Cylinder for £15 (RRP £59.99 our usual price £25) simply take the empty cylinder to your local stockist and pay for a refill and your ready to cook.

(We are unable to ship Full Gas Cylinders as couriers will not transport them. We ship a certified Air filled 907 Cylinder for Safety)

Our opinion:-
We are big fans of Campingaz Party Grills.The Party Grill 400 was introduced in 2016 and was our best selling grill
Featuring a water bath system, to ensure easy cleaning, they have a big advantage over the competition. It is simplicity in its design, you fill the bowl section of the party grill with water, this is positioned below the grill and holes in the grill plate allow the fat to drop through into the cold water and it solidifies in the cold water. So once finished you simply empty out the solidified fat with the water and give the parts a wipe over.
Campingaz use their own tooling to produce a very efficient burner with good temperature adjustment control.
The Party grill 400 is designed to run of campingaz 904 or 907 Refillable Gas cylinders, but can be run of other Gas Cylinders (Propane or Butane) if you use the correct regulator to suit.(we can supply an empty 907 Bottle for £30)

Well designed and ideal size for 3 to 4-person cooking
Coleman have been Awarded a Highly Commended in Camping Magazines Editors Choice Awards Best Campsite Kitchen Gear for the Party Grill 400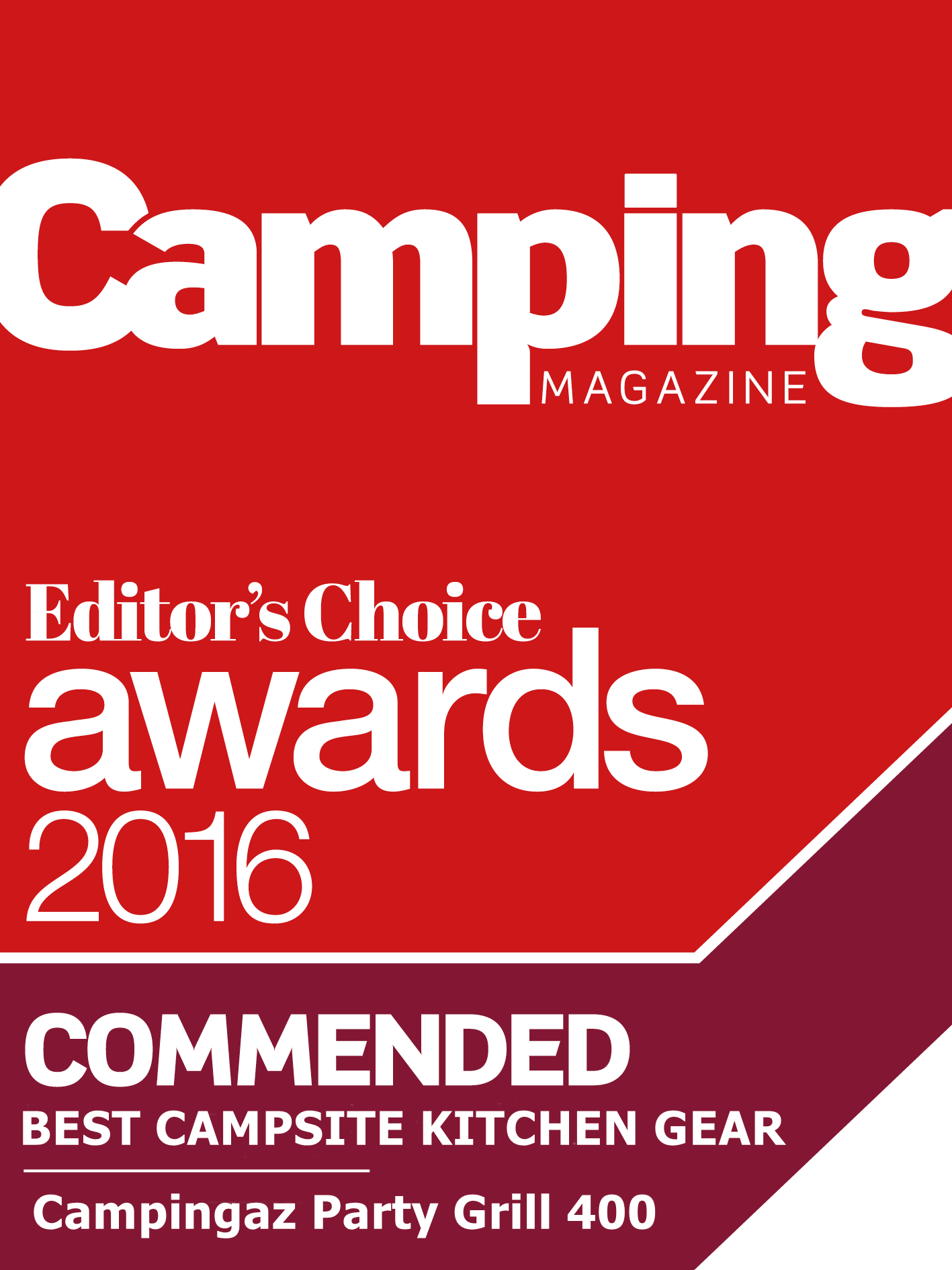 What the manufacturer says:-
The Party Grill® 400 stove is the essential camping companion with endless cooking options! This compact, portable stove Party Grill® 400 offers the widest range of cooking options; stove top, grill, griddle, plancha and the lid even doubles as a wok.
All elements of the Party Grill® can fit inside the device. Thanks to its detachable legs and lockable lid it is easy to transport and store. The Party Grill® 400 runs on conveniently sized Campingaz cylinders. The piezo ignition promises simple, match free lighting wherever you are, so you can get the party started.
Features
Power: 2000 W
Gas consumption: 145 g/h
Boil time: 6 min 5 sec
Ignition: Piezo
Runtime: 19 hrs and 30 min. on R907, 12 hrs and 30 min. on R904
Fuel source: R904, R907, butane or propane cylinder
Weight: 4.92 kg
Dimensions (LxWxH): Ø 36 x 42 cm (on stand)
Feature-Highlights on one view
Multi-cooking options

The essential camping companion with endless cooking options! Why not prepare an English breakfast with beans, sausages and toast? Or perhaps grill some fresh fish whilst cooking some pasta?

Stoves with Multi-cooking options offers the widest range of cooking options (stove top, grill, griddle, plancha, wok or roast - depending on the product).

Easy to Transport

All the components can be stored inside the stove, making it easy to carry and transport. The legs are easy to assemble/disassemble and easy to store with the stove.
View All
Close